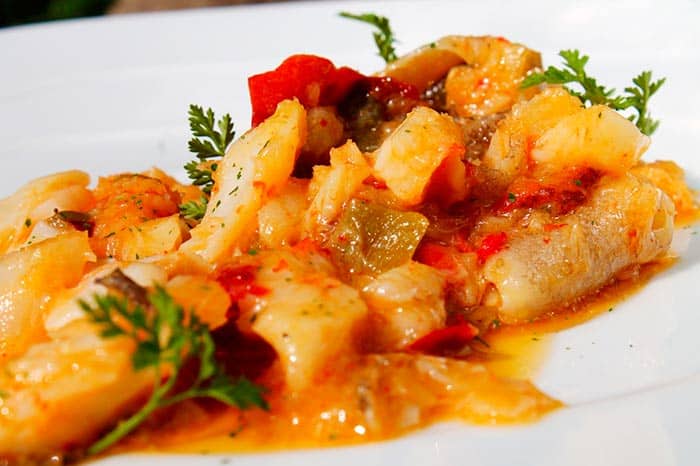 It is one of the dishes originating from the area of ​​the peninsula, He is known for being one of the traditional regions such as Aragon, Navarra and Castilla. The variety of provinces from which offers a plate with different identity.
Its base consists of a sauce accompanying salted codfish, but depending on the area, ingredients accompanying vary, can add other vegetables, as well as other seafood which match the recipe.
How is served Cod Ajoarriero?
It is a dish best served warm in a bowl, or preferably in a clay pot. It is a dish rich in energy properties and generate great benefits satiety.
Origin of the name of this dish
The origins of this recipe relate it to the old drovers area, persons responsible for transporting goods using mules or other animals to perform work. They had salted cod on their trips and accompanied with vegetables and other ingredients that might access the Way.
Recipe Cod Ajoarriero
Is a simple recipe performing, so it is attentive to the ingredients and preparing to enjoy your own ajoarriero cod.
Ingredients
350 gram of Bacalao salt meat
3 garlic cloves
3 potatoes
2 onions
2 Peppers (may be normal or spicy)
4 tomatoes
Sprigs of parsley
Olive oil
Salt and seasonings to taste
Preparation
Salted cod must leave to soak for at least 24 a 36 hours, by changing water to reduce the level of salt. If you want to save this, Look for cod that has already gone through this process, after only must squeeze and dewater the fish it dry.
Then cut all vegetables into pieces. Once ready, poured olive oil and expected to take some temperature. Then add the vegetables to make the sofrito begin.
Cut the cod into pieces and comfortable condiméntalo, Frying then a bit in another pan with oil. Be sure to move it to the meat of the fish from sticking to the pan floor.
Once ready, Take the fish from the pan. Cut garlic into pieces and fry with the residual oil left fish. After a while, Take the peppers in the same pan, without leaving long.
Finally, It serves the sauce and cod on a plate and then accompany with mixture made with oil, garlic and peppers. Por último, You can put parsley leaves to give more taste to the dish.
This delicious dish is a taste of the rich Typical food culture del Camino, captivates with its powerful flavor palate. On your journey through the different routes you will find many other traditional dishes that add to this magical experience.
Did you liked our post?
Please, Rate this article estrellitas
Your opinion matters to us!